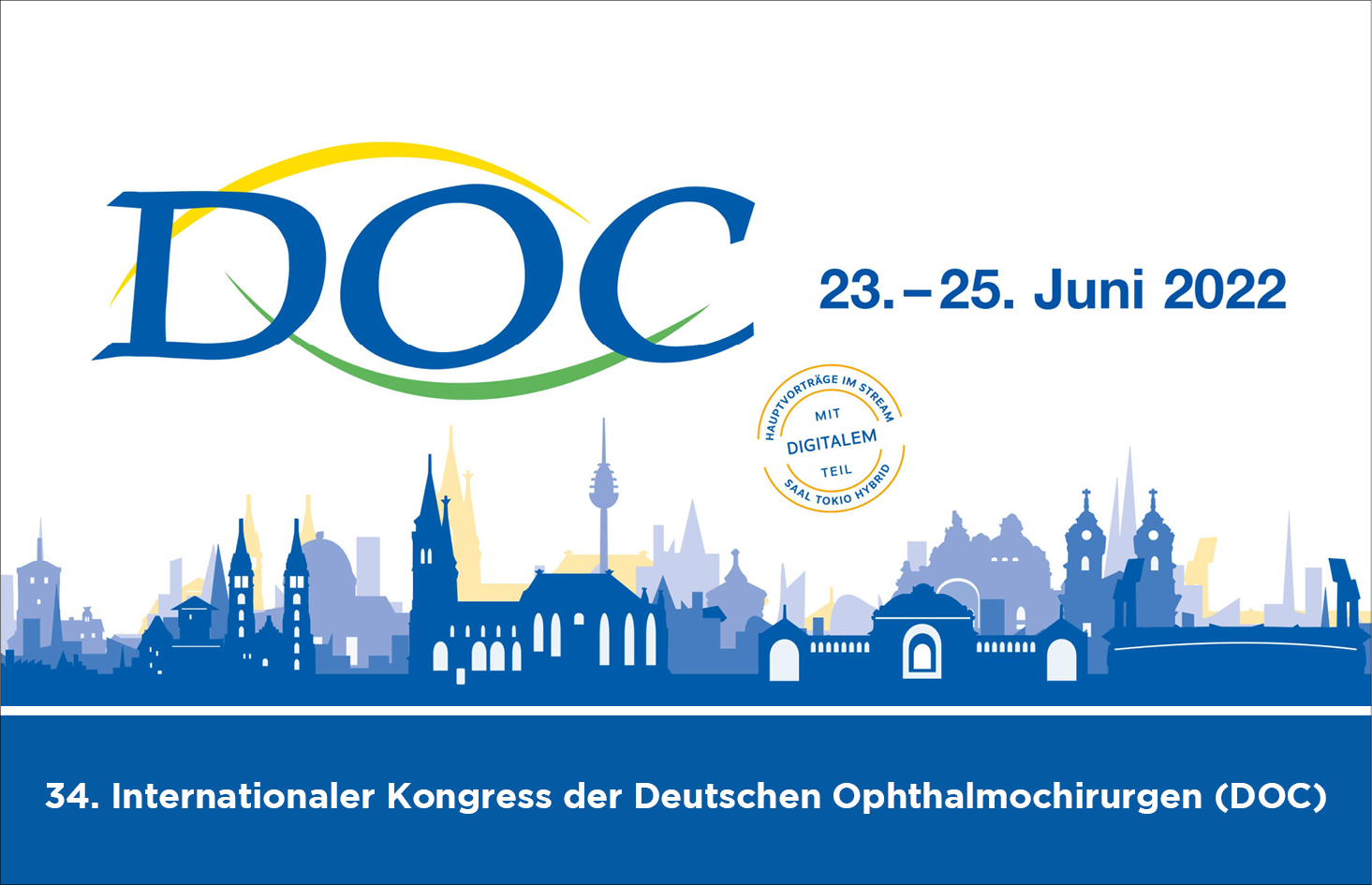 The 34th International Congress of German Ophthalmic Surgeons (DOC) will take place from 23.-25. June 2022 in Nuremberg.
Renowned experts present innovations and further developments and discuss the gold standards of eye surgery with the audience. Practical ophthalmic surgery is given a lot of space in wet labs and courses, so that comprehensive and practice-oriented further education and training is guaranteed.
The program for doctors is supplemented by a comprehensive and very differentiated program for the ophthalmological assistants (OAP program).
You can explore the full program at the DOC website. Below we present the details of the sessions (in German) where Dr. Detlef Holland and Dr. Florian Kretz will be attending.
Thursday, Juni 23
REFR 2
Torische Multifokallinsen (TMIOL)
08.30 – 10.30 Uhr (Saal Neu-Delhi)

Moderation: Detlev R.H. Breyer, Düsseldorf
08.30 – 08.55 Uhr


2.1


Wie kalkuliere ich eine torische MIOL am besten? Physikalische Grundlagen zur MIOL Berechnung. Aufzeigen von möglichen Fehlerquellen. Praktische Tipps
Peter Hoffmann, Castrop-Rauxel

08.55 – 09.20 Uhr




2.2


Die Bedeutung akkurater präoperativer Diagnostik mittels Aberrometrie zur Ermittlung der Zielachse im Vergleich zu Keratographie und Scheimpflug-Verfahren zur Quantifizierung der torischen Dioptriestärke. Fallbeispiele
Detlef Holland, Kiel


09.20 – 09.45 Uhr


2.3
Physikalisch optische Betrachtung unterschiedlicher TMIOL. Defocuskurven im Vergleich und ihre Auswirkung auf die Patientenselektion. Update wissenschaftlicher Studienergebnisse
Detlev R.H. Breyer, Düsseldorf

09.45 – 10.10 Uhr


2.4
Markierung der Referenz – und der Zielachse. Abwägende Darstellung manueller Markierungsmethoden. Pro und Contra intraoperativer Aberrometrie zur Achserfassung
Tobias Neuhann, München

10.10 – 10.30 Uhr


2.5
Auflistung und Bewertung unterschiedlicher Markierungsmethoden. Fehlerquellen
Stefanie Schmickler, Ahaus
CT 1
Consilium Therapeuticum
10.30 – 12.00 Uhr

Moderation:   Alireza Mirshahi, Bonn
Panel:
Anja Eckstein, Essen
Arnd Gandorfer, Lindau
Maren Klemm, Hamburg
Detlef Holland, Kiel
Peter Szurman, Sulzbach/Saar
Jochen Wahl, Wiesbaden
Friday, June 24
KAT 11
Phakoemulsifikation für Fort geschrittene
Moderation: Florian Kretz, Rheine
16.30 – 17.00 Uhr




11.1


Phakoemulsifikation als Risiko für die Hornhaut
Fabian Höhn, Osnabrück

17.00 – 17.30 Uhr




11.2


Was tun, wenn Phako nicht mehr geht?
Florian Kretz, Rheine

17.30 – 18.00 Uhr




11.3


Phako bei insuffizienter Zonula
Waltraud-Maria Ahr, Augsburg

18.00 – 18.30 Uhr




11.4


Vitrektomie, Komplikationsmanagement
Jörg C. Schmidt, Duisburg-Ruhrort