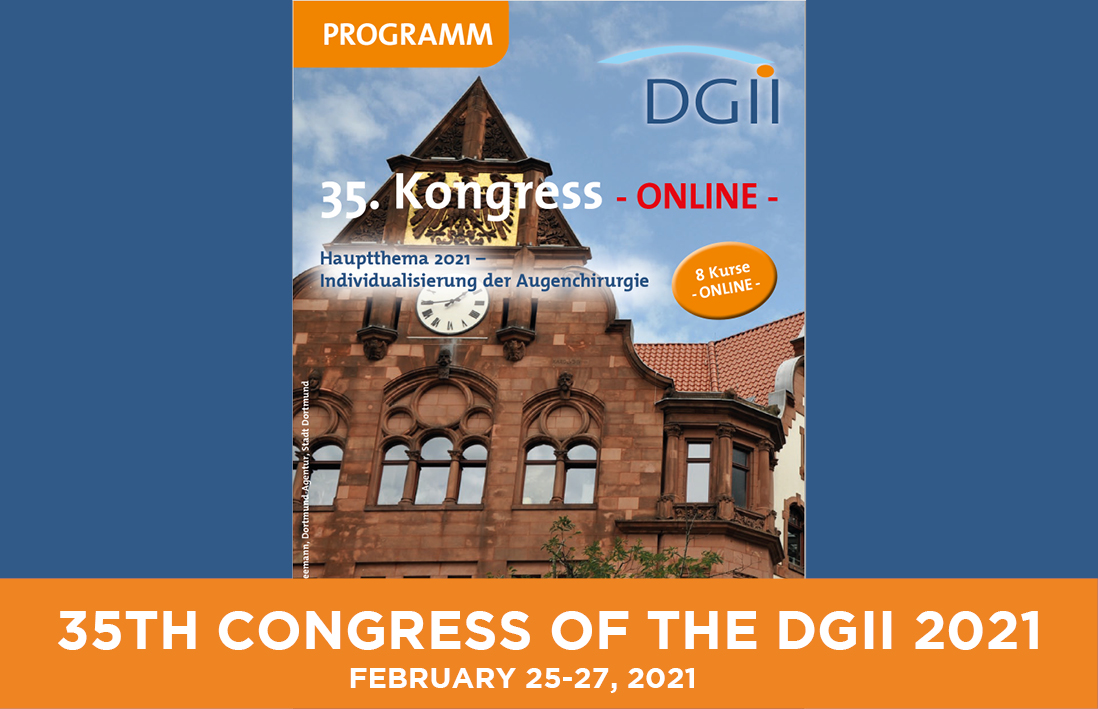 February 25th to 27th, 2021
The annual congress of the DGII represent the first forum at the beginning of the year, at which the latest research results and trends in cataract surgery and refractive surgery are presented.
As a specialized community, DGII will again this year broadly address the needs for cataracts and refractive surgery as well as corneal, vitreoretinal and glaucoma surgery. A special focus will be individualized eye surgery. Innovations in anterior segment diagnosis, individual intraocular lens solutions, presbyopia treatment, and femtosecond laser technology for the lens and cornea characterizes the constantly improving individual treatment of our patients.
The 35th Congress of the German-speaking Society for Intraocular Lens Implantation, Interventional and Refractive Surgery with Wet Labs, Course Events, and Program for Nursing Staff will take place from February 25th to 27th, 2021 in Dortmund.
You can meet the team in various sessions on the following dates:
Friday 26.02.2021
Detlef Holland (Kiel)
09:05: Presbyopie-LASIK – Noch aktuell?
Hakan Kaymak (Düsseldorf)
15:55: Vor- und Nachteile nicht-diffraktiver Designs zur Erhöhung der Tiefenschärfe
Saturday 27.02.2021
Detlev R.H. Breyer (Düsseldorf)
09:26: Die 10 Regeln der miLens Strategie zur Korrektur der Presbyopie mit Intraokularlinsen
14:34: Erste europäische vergleichende klinische Ergebnisse für eine Blaulicht filternde trifokale Intraokularlinse
Kai Neller (Düsseldorf)
15:00: Kontrastadaptation bei Patienten mit Makulaerkrankungen – Unterstützung für die Implantation von multifokalen IOL
Birte Graff (Düsseldorf)
16:48: Eignung einer "High Add"-IOL bei Patienten mit Silikonöltamponade
For more detailed information about the congress, please visit the DGII website. You can also find the full program here.